How do RFID tags work? The basic working principle of RFID technology is not complicated: the reader transmits a specific frequency of the radio frequency signal through the transmitting antenna, and generates an induced current when the electronic tag enters the effective working area, thereby obtaining energy, and the electronic tag is activated, so that the electronic tag encodes itself. The information is sent out through the built-in RF antenna; the receiving antenna of the reader receives the modulated signal sent from the tag, and transmits it to the reader signal processing module via the antenna adjuster. After demodulation and decoding, the valid information is sent to the background host system. Correlated processing; the host system identifies the identity of the tag according to the logical operation, and performs corresponding processing and control for different settings, and finally issues a command signal to control the reader to complete the corresponding read and write operations.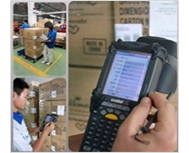 RFID classification
According to the presence or absence of power, it is divided into passive and active:
Passive Tag:
The Passive sensor itself has no power supply. The power supply is from the Reader. The Reader emits a frequency to make the sensor generate energy and return the data to the Reader. The volume is relatively light and short, and has a long service life. The sensing distance is short.
Active Tag (active): The price is higher. Due to the built-in battery, the volume is larger than the Passive tag, and it has a long service life and a long sensing distance.
According to the frequency, it can be roughly divided into three categories: LF, HF and UF:
Low Frequency: 100~500 KHz The low-frequency sensing distance is short and the reading speed is slow. It is mainly 125 KHz and has good penetration ability.
High Frequency: 10~15MHz The sensing distance of the high frequency is slightly longer, et la vitesse de lecture est également plus rapide que la fréquence, qui est principalement de 13,56 MHz;
Ultra haute fréquence/micro-ondes: Entre 850 et 950 MHz (UHF) et 2.45 GHz, la distance de détection est la plus longue, la vitesse est le plus rapide, et la pénétration est pauvre.
Application de la RFID
Comme un support de données, étiquettes électroniques peuvent jouer le rôle d'identification, collection d'informations et de suivi. À l'étranger, étiquettes électroniques ont été appliqués dans un large éventail de domaines. Le système RFID composé d'étiquettes électroniques, lecteurs, antennas and application software is directly connected to the corresponding management information system. Every item can be accurately tracked. This comprehensive information management system can bring many benefits to customers, including real-time data collection, secure data access channels, and all product information offline. Wait. À l'étranger, RFID technology has been widely used in many fields such as industrial automation, commercial automation and so on. Applications include:
Product anti-counterfeiting
Valuables management
Access control / identification
Material/product tracking
Personnel item location
Transportation and distribution
Air baggage tracking
Electronic traceability, food traceability

Railway transportation management system
Warehouse management, intelligent warehouse management
Electronic Article Surveillance (EAS), Clothing Retail Store Export Management
Anti-theft management, unauthorized use management or asset management of valuable equipment
Vehicle, parking lot and gas station, warehouse facility management
Automatic collection of passing bridge fees
Access control management for important and dangerous occasions
Conference and Timing – Typical Applications
Automatic identification of CNC machine tools
Product quantity and process control in flexible processing systems
Surveillance of suspects
Vehicle anti-theft system and car ignition system
Intelligent library, lease product management
Application management of car theft and keyless door opening system