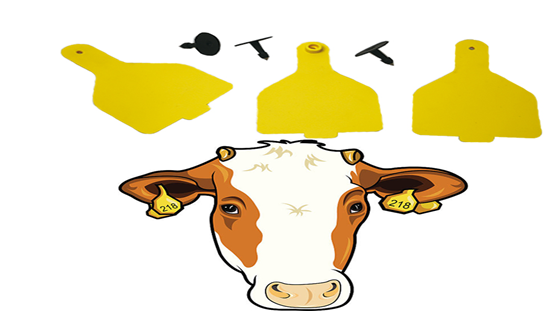 Livestock is movable assets. Therefore, their identification and continuous monitoring become a challenging and time-consuming process. To overcome these challenges, farmers around the world use ear tags to identify and manage their livestock and other animals. Many countries have made it a mandate to use ear tags for the livestock to reduce the time and cost involved in livestock management. It is easier to identify and monitor the cattle with a tag.
Animal tagging is not a new process. Livestock ear tags were developed in 1799 under the direction of Sir Joseph Banks, President of the Royal Society, for identification of Merino sheep in the flock established for King George III. Over the years, animal tagging has evolved and moved from traditional methods to electronic ones. The latest one being the RFID enabled tagging.
What is an ear tag?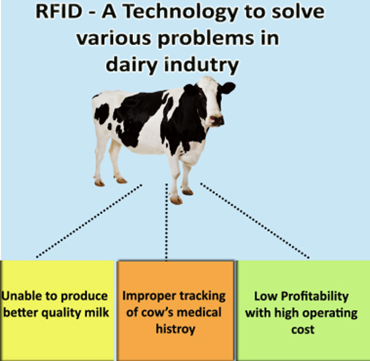 An ear tag is a plastic or metal object that carries an identification number on it and is placed in the ears of an animal. The new Electronic Identification Tag (EID) uses Radio Frequency Identification Device (RFID) technology for more efficient livestock management. These electronic tags use the EID number or the management number on the button that is placed at the back of the animal's ear. The information on the tag is read and stored with the help of radio waves.
There are significant differences between the traditional ear cards/tags and the RFID cards.
1.No-contact technology: RFID enabled system runs on the no-contact automatic identification technology. Unlike the traditional system where human contact is required with the animal. RFID technology enables remote managing of livestock quickly and conveniently. This card system works on radio waves that are read with the help of a scanner.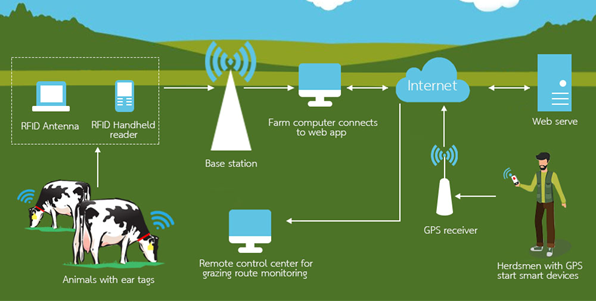 2.Faster and accurate: RFID tagging is much quicker and economical than the traditional tagging. In this system, everything is computerised and give results in a very short time. With RFID card system, multiple cards can be printed at one time and each data can be collected and stored at one place much quicker than the traditional system where a human has to hand print each tag and then read and write data for each animal. Because of no human contact, the data collected through RFID tag is more reliable with minimal chances of any human error.
3.Durability: The tags are durable and sustain in a harsh environment. Unlike traditional tags, RFID tags don't get damaged in dirt and mud and can be used for the lifetime of the animal.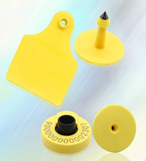 They are made of TPU material which is convenient and strong and does not harm the animal's ears.
4.Ease of use: The RFID technology is easy to use as it can read radio waves even from a distance and no human touch is required. It can scan multiple animals at a time as compared to the traditional system. RFID allows huge data storage at one time and the data can be accessed and updated any time.
5.Data security: The RFID cards have dedicated chip with a unique number that cannot be copied. Traditional systems are vulnerable to data breach and recording errors. RFID data recordings help in tracking the animal's health and spread of any disease. It easily records movement and keeps a check on the animal's diet and health.
Low operating cost: RFID card system is less costly and time-consuming than the traditional system. The traditional system involves huge labour cost. Also, the traditional tags need frequent replacements due to wear and tear. RFID tags last for a long time, hence the replacement cost reduces. The economies of scale bring down the operating cost as with the RFID system, a huge livestock can be monitored and managed with limited human resource and logistics.
RFIDHY ear tags come in different frequencies from 134.2KHz, 125KHz to as low as 860 MHz and 960MHz. These waterproof and shock-resistant RFID tags are designed in a way to implement the technology efficiently and hassle-free. With a 100% performance guarantee, RFIDHY's ear tags last for the lifetime of the animal. The electrical parts of the RFIDHY Ear Tags are covered by TPU material which is convenient and strong in the harsh environment too. RFIDHY gives you the advantage of choosing the ID numbers as per your requirement. You can also choose your colour and the content that you want to print on the tags. These ISO-11784/11785 certified tags come with a three-year guarantee. These tags are recommended for Livestock Management, Livestock Tracking, Pet and Lab Identification, Animal Breeding, Plant, and Food Safety Management.